Richland Chambers Lake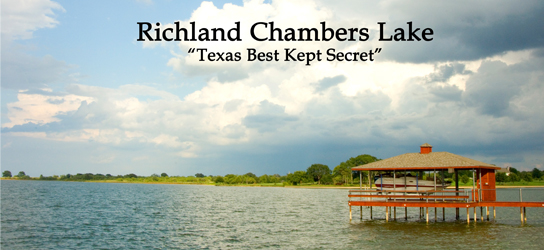 Richland-Chambers Reservoir is the third largest inland reservoir by surface area and the 8th largest reservoir by water volume in Texas formed by the impoundment of Richland Creek and Chambers Creek east-southeast of the town of Corsicana and south of Kerens, in Navarro County and Freestone County, Texas, USA. It has 330 miles (530 km) of shoreline and is "Y" shaped with the dam on the eastern end of the lake.nUnlike other lakes near Dallas, Richland Chambers remains relatively unknown and is sometimes mistakenly referred to as Richard Chambers Lake. Current visitors will find public boat ramps, marinas, lakeside cabins and campgrounds.







It is a great all around lake, with deep water for sailing, open water for skiers, and excellent fishing.nRichland Chambers is just minutes from Cedar Creek Lake, Athens, Corsicana, Eureka, Powell, Kerens, Cayuga, and Fairfield. Unlike most lakefront real estate, you typically own down to the shoreline at Richland Chambers. Notably, the controlling authority, Tarrant Regional Water District, permits piers and boathouses in the area.